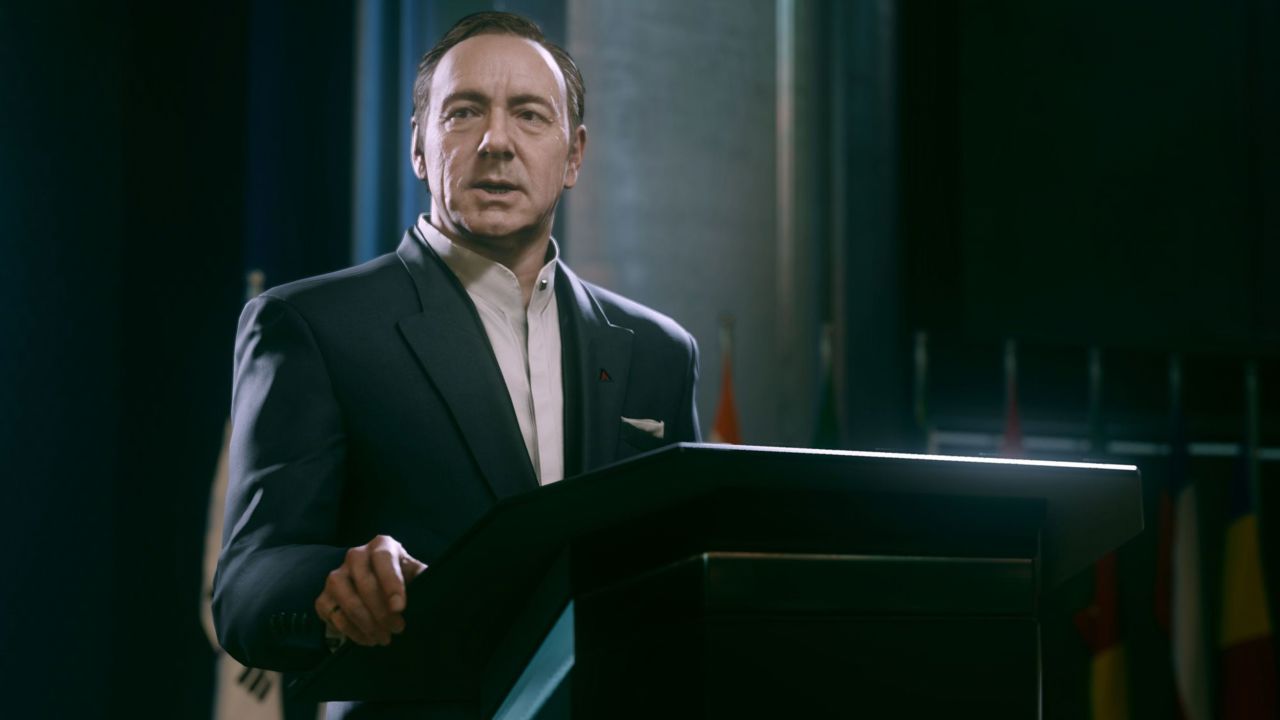 In November of 2014, Sledgehammer Games released Call of Duty: Advanced Warfare; this genre-defying title serves as the San Francisco based studio's first entry to the franchise, and many consider it to be the turning point of the series. Advanced Warfare offers players a star-studded cast of characters portrayed by Kevin Spacey, Troy Baker, and more, in its action-packed, narrative-driven Campaign mode.
Fast forward to current day, nearly seven years later, and Advanced Warfare is still a point of discussion for Troy Baker, whos voice and likeness is found in Jack Mitchell - the title's main playable character. In a recent interview with Dan Allen, Troy discusses his experience working with Kevin Spacey and reveals behind-the-scenes details from the development of Advanced Warfare, including the original conclusion to its story.
Terminus
Terminus is the fifteenth and final Campaign mission in Advanced Warfare; it's here that Mitchell and Gideon are tasked with assaulting the Atlas Command Center and stopping the Manticore launch. After successfully aborting the launch, Mitchell is incapacitated and Gideon is forced to arduously evacuate with his ally who's fading in and out of consciousness.
Once in the lobby of the Command Center, Gideon sets Mitchell down and asks him to try and walk. Jonathan Irons, the main antagonist who is portrayed by Kevin Spacey, then steps into the light and confronts the two - disabling their Exo suits and preventing them from moving.
What I have started won't end with me, it's bigger than me and it's certainly bigger than you. You think I'm a monster? That's only because you don't have the conviction to do what's necessary.

I'm saving the word from itself. When there's no one left to challenge Atlas, there will be no more wars; there had to be sacrifices along the way.

I could've killed you in the prison camp... I could kill you now! But I won't. I'm not a monster.
As the Command Center begins to collapse, Irons flees, and Mitchell breaks free from his Exo suit to chase after him. Mitchell tackles Irons, causing him to fall over the edge of the skyscraper, clinging to the prosthetic arm which the player was given earlier in the story. Irons pleads to be pulled to safety, saying "I gave you that arm. I gave you a second chance.", and Mitchell is forced to sever the prosthetic, dropping the antagonist to a fiery death.
Although this conclusion satisfied millions of players, it wasn't free from criticism. Many players have expressed their displeasure with this ending, claiming that it was too linear and predictable - a criticism which many Call of Duty titles see.
Troy Baker even expresses his dissent for the title, simply saying "Sorry." when Dan Allen says that he is currently playing through the Campaign. Baker then goes on to tell his perspective during production.
You remember the scene in the game where they said "On whose authority?" The first read that Kevin gives, he goes "On my authority." and it's just like, that's why you hired Kevin Spacey.

Everyone was like "Oh man, that's so good. Great job... We're gonna go one more time, and we just feel like you should be angry." and [Kevin] goes "Angry? Okay."

Then he just looks at me, [raises his eyebrows,] and goes "Now I know what game we're making." and I'm like "No!" A part of me died.
Original Ending
As Troy continues to discuss changes made during production, he describes a conclusion which varies vastly compared that which shipped in the final product. It would seem that the talent much preferred this original take on the captivating finale.
The scene begins at the point in which Mitchell and Gideon's Exo suits are disabled. In this rendition, however, Irons guides the protagonist's disabled arm and weapon to his head and says the following dialogue before taking his own life. "Bang. That's the original ending." Troy says.
To really have an effective movement, you need to have a martyr.

I know what I'm doing.
Despite the powerful dialogue and performance of this scene, Troy says that during the automated dialogue replacement portion of post-production, it was decided that an entirely different sequence would take its place.
Now all of the sudden he's got my arm and we do a Die Hard drop, and I'm just like "What is this?" and they're like "There's no way we could've done the original ending."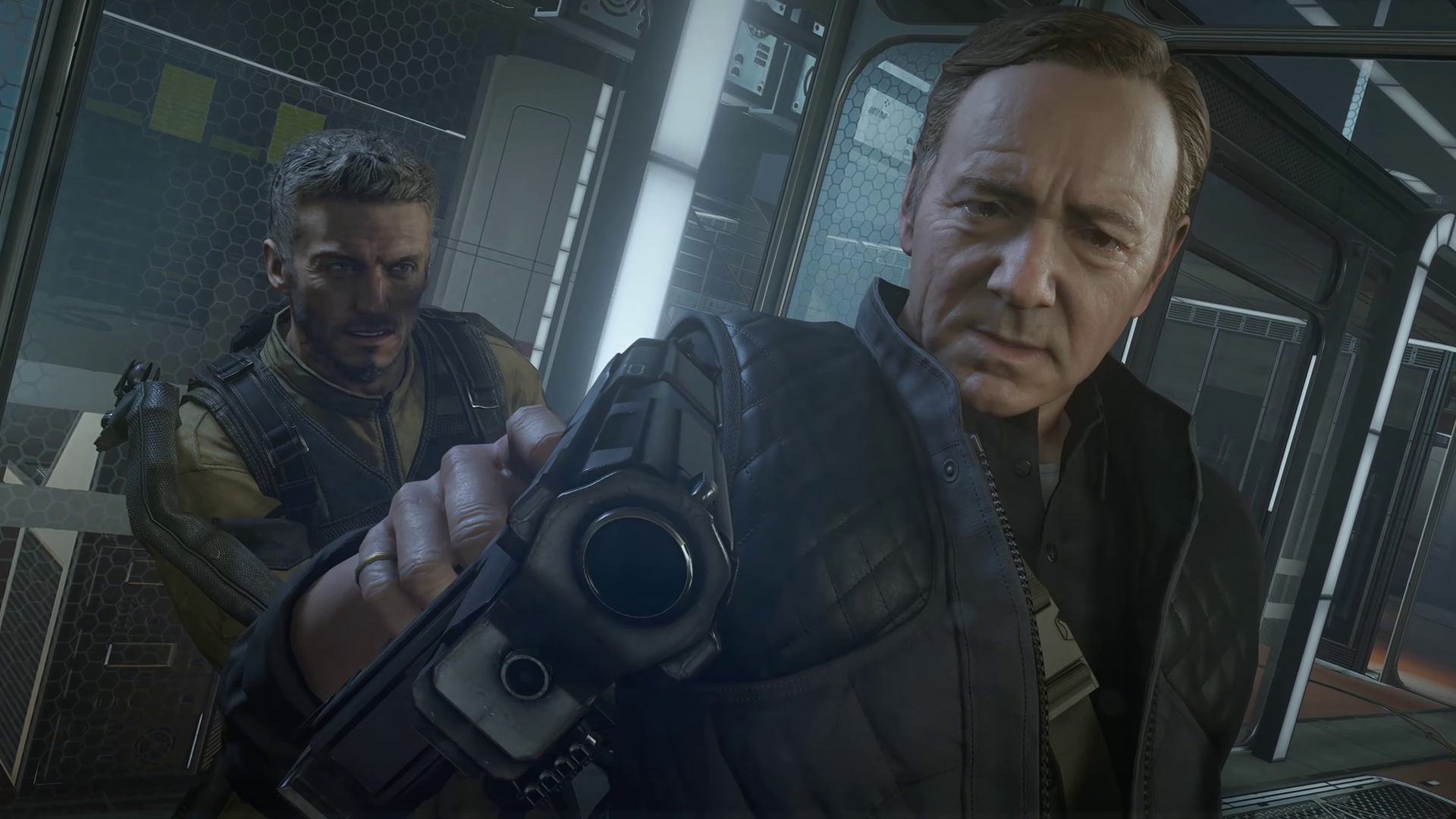 Throughout this discussion, it's made clear that Troy Baker does not approve of the narrative changes imposed by the teams at Activision and Sledgehammer Games. The talent's initial interpretation of the material is certainly different to how the development team envisioned it, we can only wonder how the players would have received the content if things were different.
---
Stay tuned to @CODTracker on Twitter for full Call of Duty coverage.
If you're new to Call of Duty Tracker, you should know that we also offer free services such as player statistics, leaderboards, and a cosmetics database. Consider checking us out and let us know on Twitter what you'd like to see next!
Comments