Season 5 of Call of Duty: Modern Warfare and Warzone is here, but don't let the plethora of new content distract you from Infinity Ward's continuation of the story of Verdansk. Following the events of the twelve hidden Bunkers, the Verdansk Stadium has opened up, but not every door is available to players at first glance.
Locate the Access Cards, interact with the Computers, and enter your Access Code to unlock the secrets that lie within!
Guide
Step 1: Access Cards
To begin, you must locate three Access Cards that can be found on the ground anywhere within the Stadium. Each Access Card pertains to a specific closet within the Stadium, these combinations are as follows. You can determine which Access Card you have by the indicator to the left of your health bar.
P2-16: Parking Garage
CL-19: Concourse
EL-21: Executive Level
Step 2: Computer
Upon entering a closet using an Access Card, a Computer can be found; Interact with this Computer to begin a sequence of eight numbers and symbols, be sure to take note of the code displayed on the monitor.
You must repeat this step for all three Access Cards, noting down the unique code which the Computer provides.
Step 3: Enter Access Code
Once you have obtained all three sequences from the Computers, navigate to the Executive Level and locate the double doors which have a keypad to the left; Interact with the keypad to begin entering an Access Code. To determine your Access Code, align all three code sequences and treat the symbols as placeholders, replacing the symbol with the number from another sequence.
For example, if your second sequence displayed a symbol for the fifth entry and your third sequence displayed a 1 in the fifth entry, that position is a 1 in the final Access Code.
Reward
You've now gained access to the board room, marvel at the mysteries within and don't forget to pick up your reward!
The Enigma Blueprint for the CR-56 AMAX Assault Rifle can be found on the table in the center of the room. Every player in your squad will unlock the Blueprint for use in Create-a-Class as long as just one player picks it up.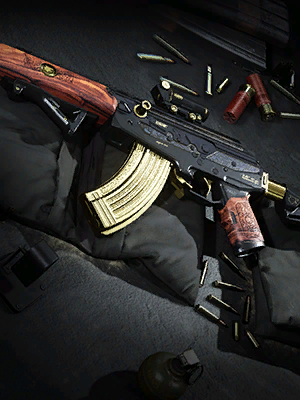 ---
Stay tuned to @CODTracker on Twitter for full Call of Duty coverage, including the latest Modern Warfare and Warzone news. In case you're new here, we also offer Player Stats, Leaderboards, and a Cosmetics Database for the latest titles - check us out!
Comments