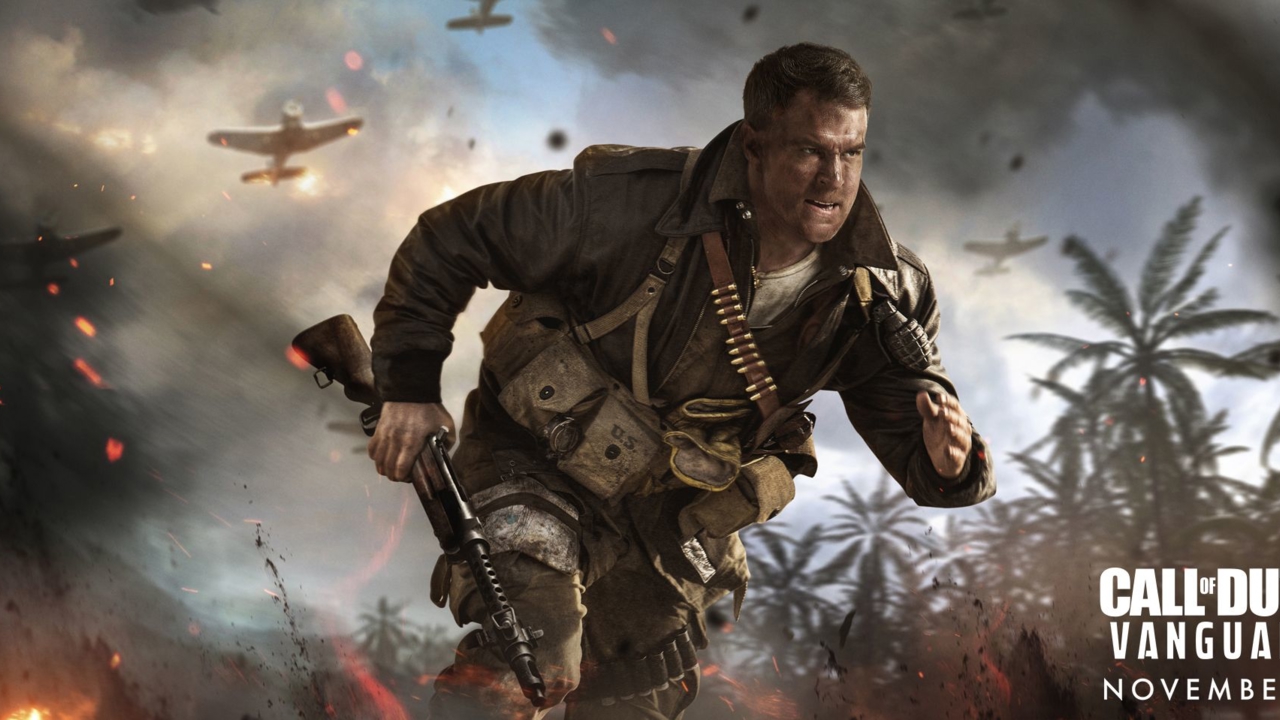 Just ahead of the worldwide release of Call of Duty: Vanguard, Activision and Sledgehammer Games have shared details pertaining to the content schedule for its titles in the months of November and December.
Vanguard is available to all players in November, and just a month later, the Warzone Pacific update arrives.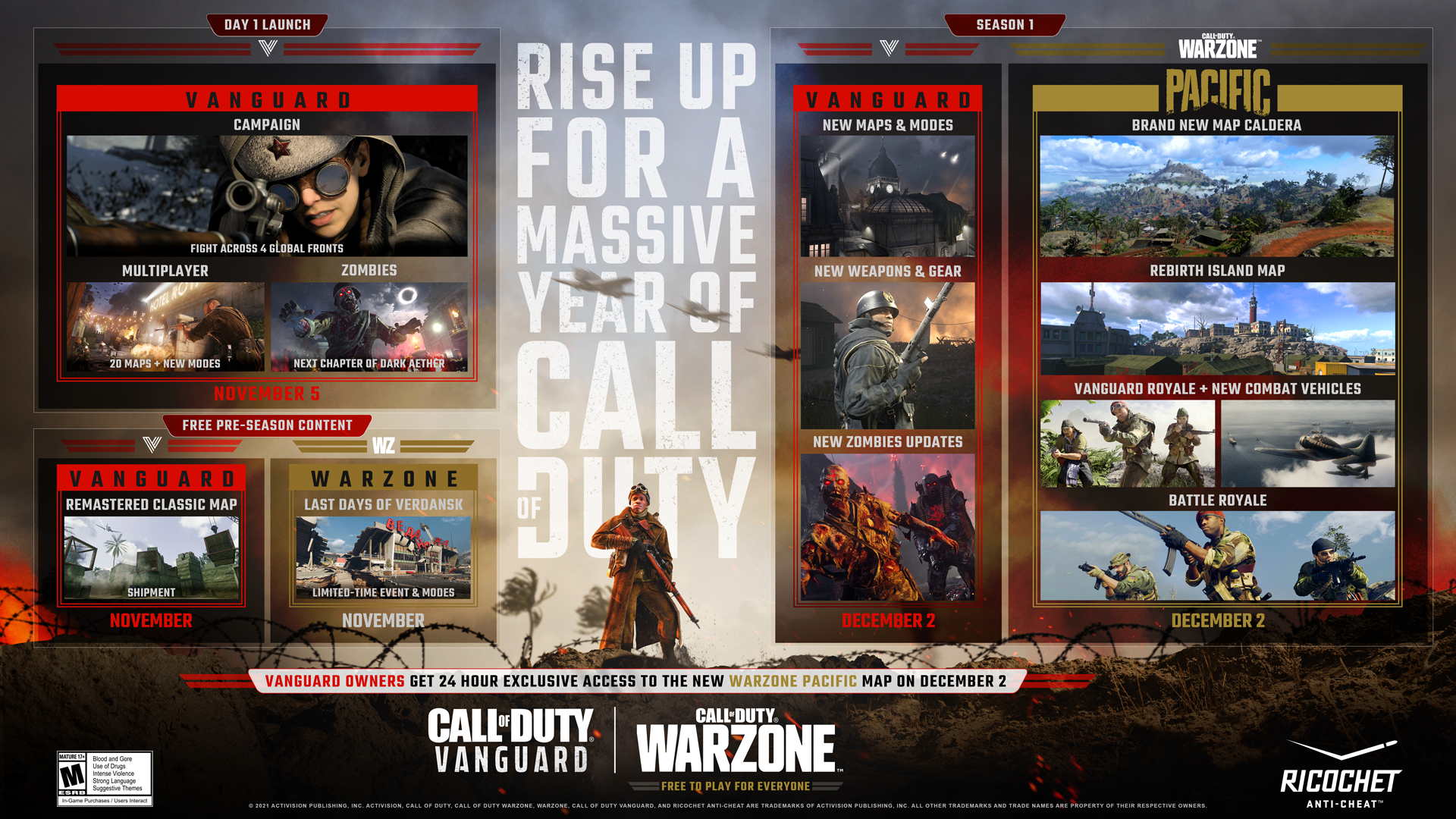 Vanguard Launch
Throughout Campaign, Multiplayer, Zombies, and Warzone, the coming months are absolutely packed full of content for the Call of Duty franchise. Alongside the launch of Sledgehammer Games' Call of Duty: Vanguard, Warzone will receive significant content updates, including an all-new Battle Royale map, weapons, Operators, and more.
Campaign
WWII battles across the Pacific theater
Fight across four global fronts
Multiplayer
12 Operators
20 Maps
36+ Weapons
Ranked Mode
RICOCHET Anti-Cheat
Zombies
12 Operators
Dark Aether storyline continuation
Warzone
12 New Operators
36+ New Weapons
New Battle Royale Map
RICOCHET Anti-Cheat
It all begins on Friday, November 5th with the launch of Vanguard!
Preload
All players who pre-ordered the game digitally can preload the title so that it's ready to go right at launch.
Preloading is available for all platforms, beginning at the following times (may vary by region):
PlayStation 5: Thursday, October 28th at 9PM PT
PlayStation 4: Thursday, October 28th at 9PM PT
Xbox Series X|S: Thursday, October 28th at 9PM PT
Xbox One: Thursday, October 28th at 9PM PT
PC (Battle.net): Tuesday, November 2nd at 12AM PT
Download Sizes & Required Space
PlayStation 5: 64.13GB / 89.84GB
PlayStation 4: 56.65GB / 93.12GB
Xbox Series X|S: 61.00GB / 61.00GB
Xbox One: 56.60GB / 56.60GB
PC (Battle.net): To be announced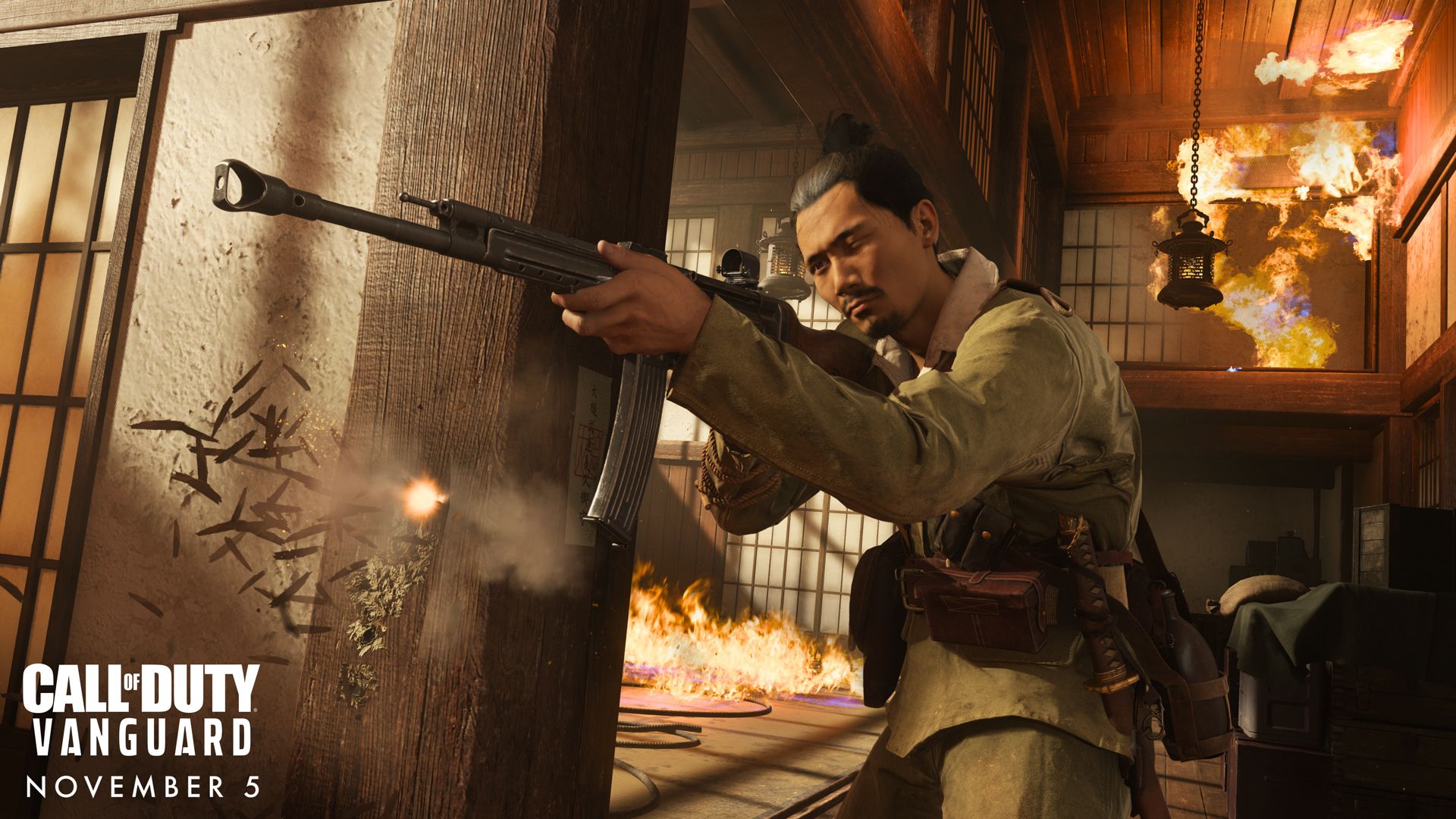 Progression
With the launch of Vanguard, players will dive into a Seasonal Prestige system in both Multiplayer and Zombies. Then, in Season One, Warzone progression will be unified with Vanguard.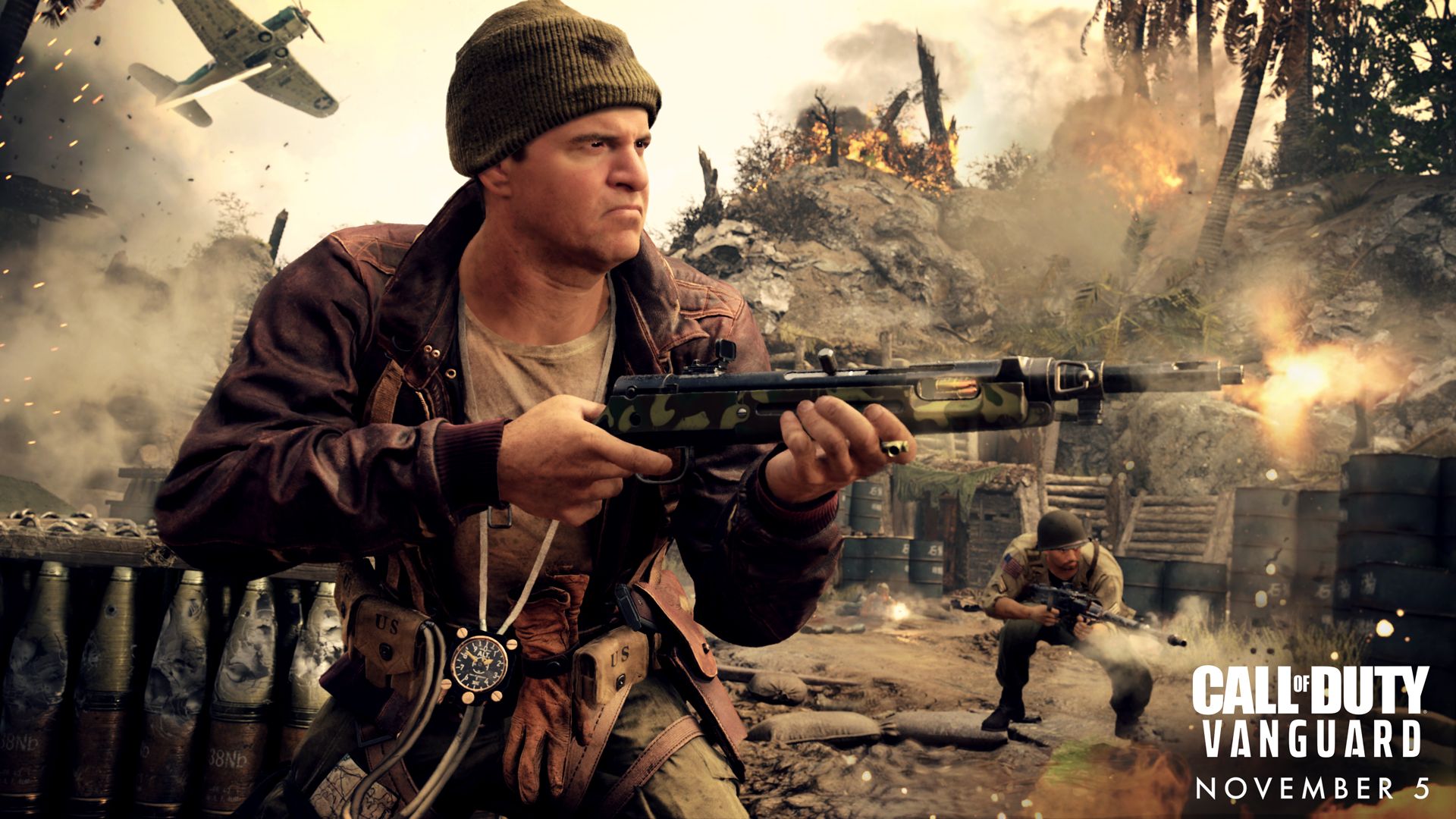 Season One
Rise up for a massive year of Call of Duty.
Season One begins Thursday, December 2nd in both Call of Duty: Vanguard and Warzone.
Vanguard
Shipment (Remastered Multiplayer Map, Preseason)
New Maps and Modes
New Weapons and Gear
New Zombies Updates
Warzone
Last Days of Verdansk Limited-Time Mode (Preseason)
Brand New Map: Caldera
Rebirth Island Map
Vanguard Royale + New Combat Vehicles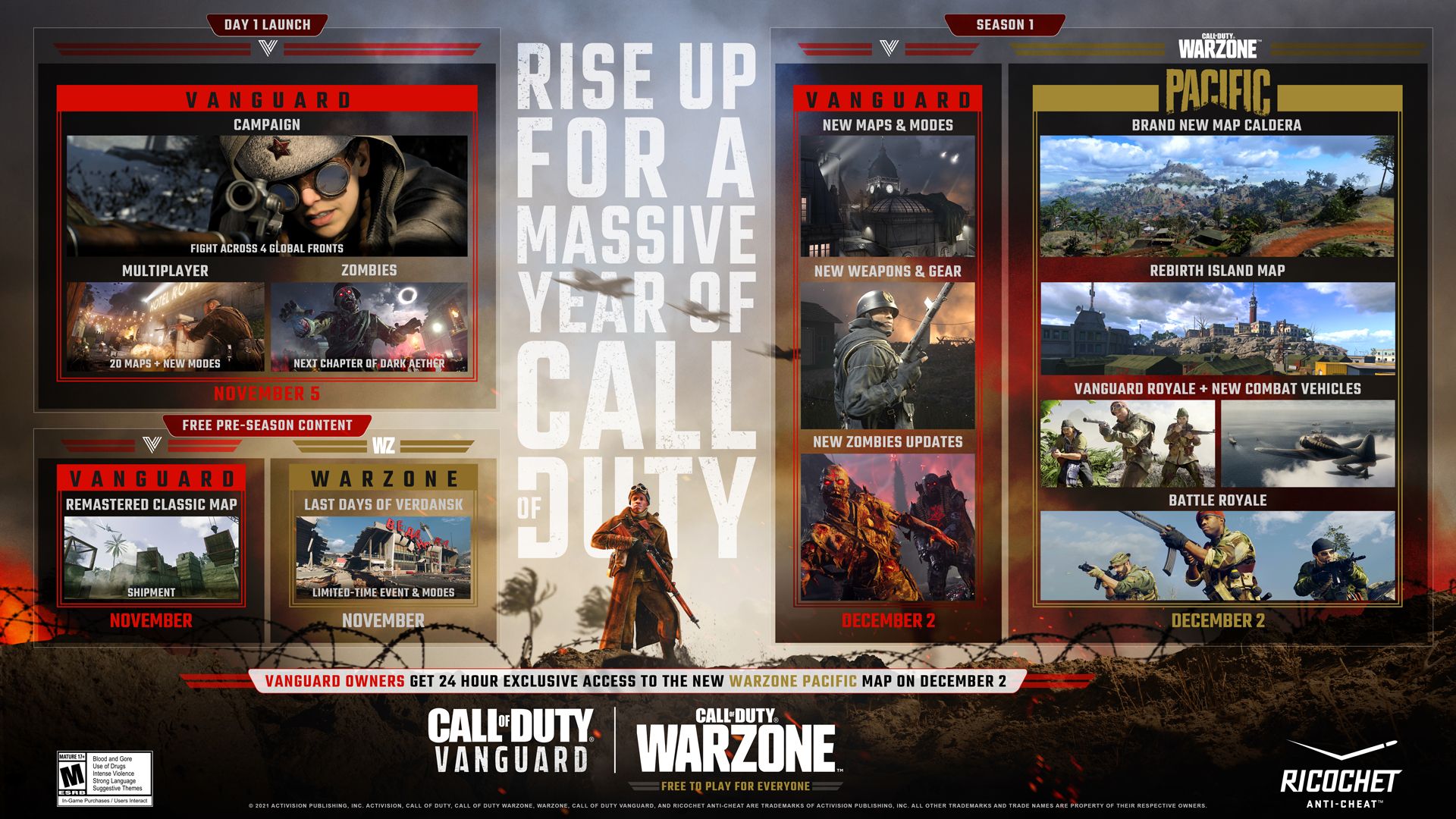 Warzone Pacific
The Warzone Pacific Era Begins.
Warzone will change its title to Call of Duty: Warzone Pacific, or "Warzone Pacific."
Caldera, the all-new Battle Royale map, can only be compared to Verdansk is its scale. This map is built on learnings from the community - it launches with Season One.
Vanguard Weapons
Vanguard Operators
Dogfighting
New Battle Royale Map
New Modes and Playlists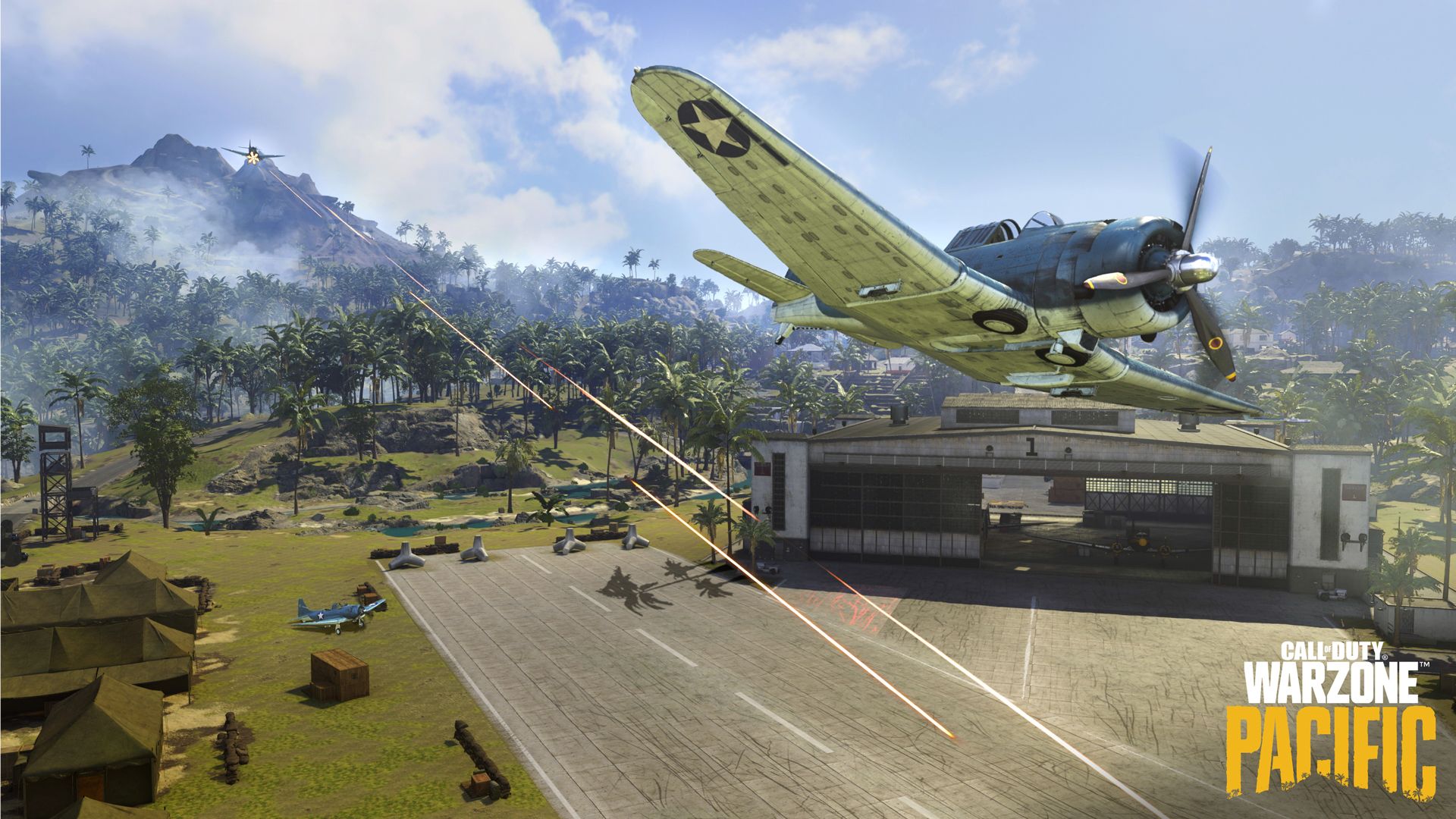 ---
Stay tuned to @CODTracker on Twitter for full Call of Duty coverage, including the latest Warzone news.
If you're new to Call of Duty Tracker, you should know that we also offer free services such as player statistics, leaderboards, and a cosmetics database. Consider checking us out and let us know on Twitter what you'd like to see next!
Comments