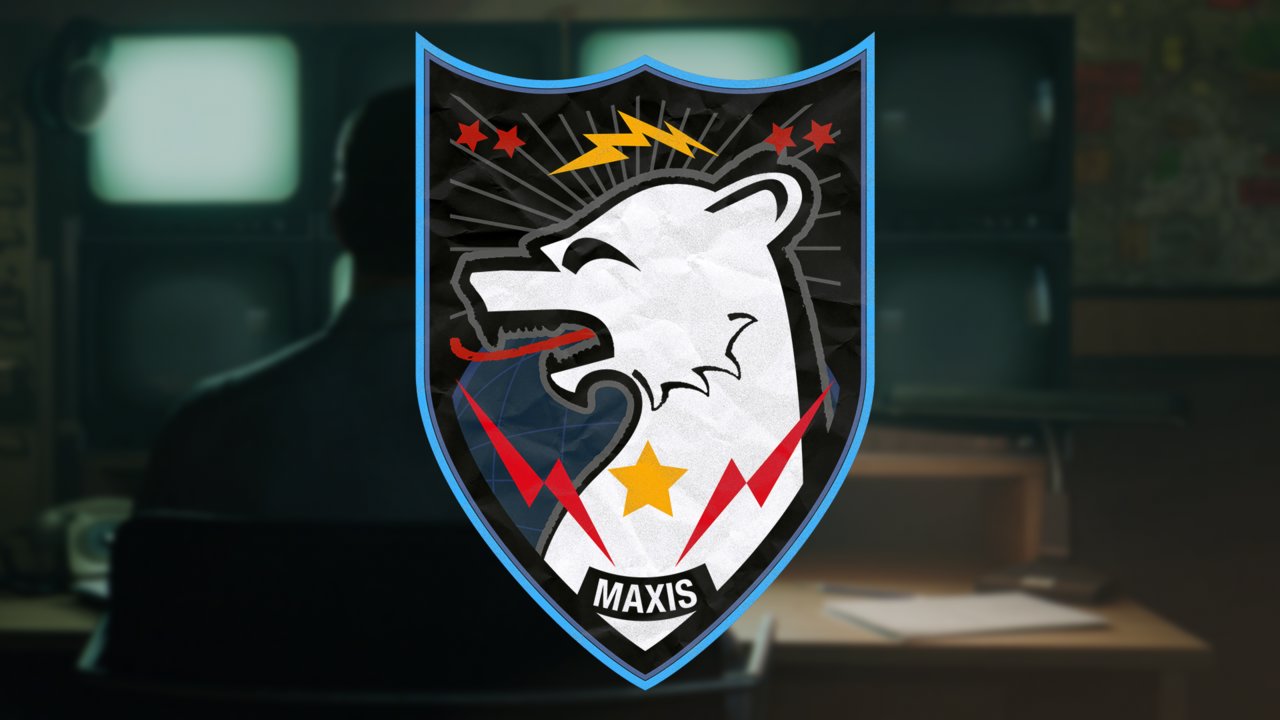 Throughout the Call of Duty: Black Ops Cold War Zombies experience, players are tasked with collecting Intel to give insight into the world of the Dark Aether storyline. Each Season, including the post-launch Preseason, various forms of Intel can be discovered for each of the four primary Zombies factions.
This article will serve as a complete collection of Intel for the Maxis faction from the Black Ops Cold War Preseason. If you are looking for Intel from the three other factions, check out the following article which serves as a hub for our coverage of the Die Maschine Zombies experience. As the Seasons progress, you can expect to find the latest Zombies Intel on our website, we'll also Tweet when it goes live!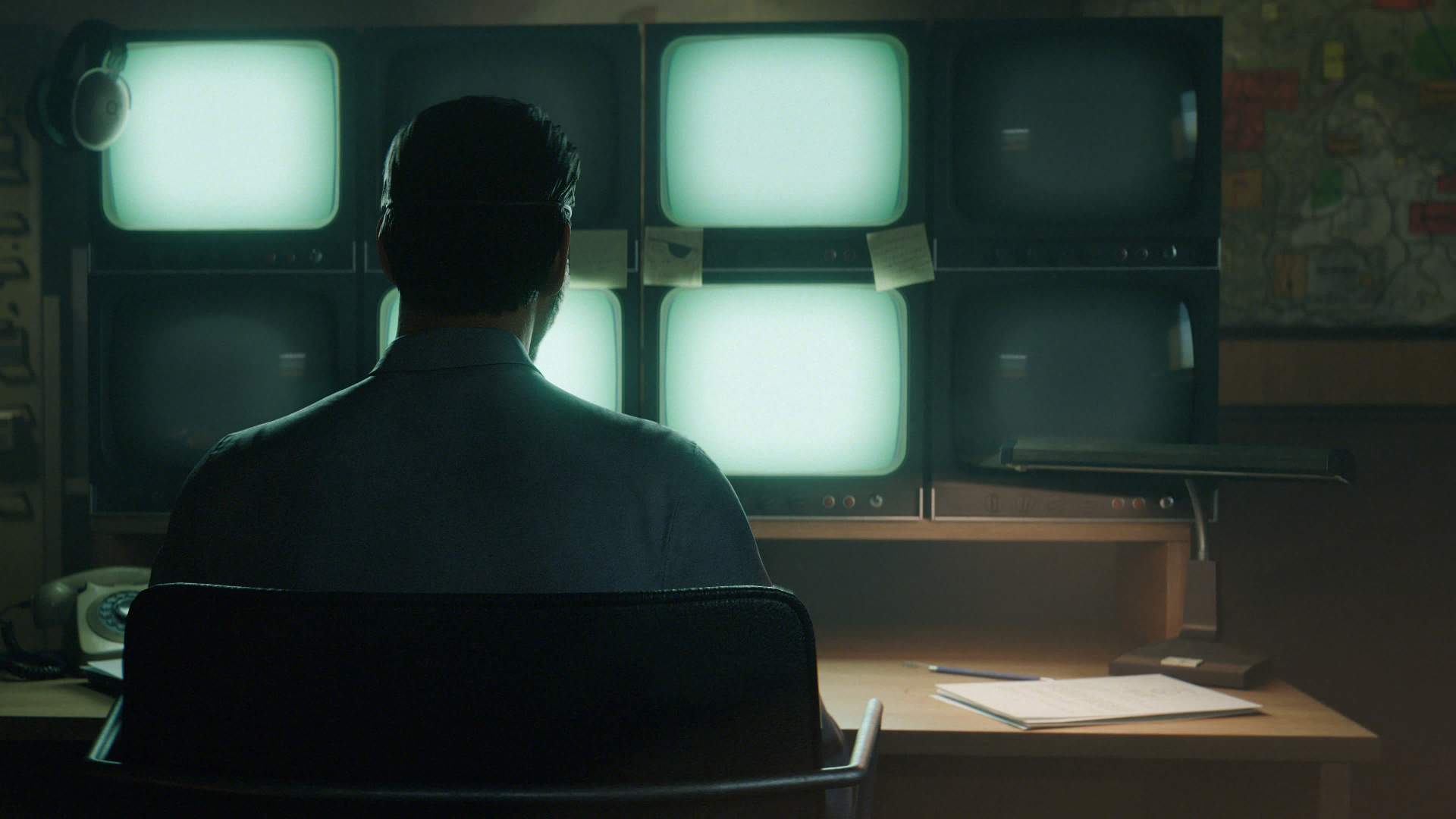 Maxis
Formerly an agent in the West German BND, Samantha Maxis will go to any length and cross any line in her mission to uncover the truth about the Dark Aether and the two organizations she's caught between.
Audio Logs
Cold War Paranoia
BND Agent Samantha Maxis leaves a message for Officer Weaver.
Automated Voice: Code in.

Automated Voice: Access granted. Commencing recording.

Maxis: It's late here in Berlin -- and it's cold, so I'm going to make this brief. Everything is so much worse than I thought. Sorry, Weaver -- how's your day going?

Maxis: I'm going to be frank. I'm not sure who the hell I can trust at the BND. There's an atmosphere. People are leaving. New people are coming in...and I'm not sure how much choice any of them have in it.

Maxis: Point is, something seems to have everyone spooked and looking over their shoulder. Cold War paranoia -- who'd have thought it?

Maxis: All I know for sure is there's a project file called..."Endstation."
Game Changer
Agent Maxis leaves a second message for Officer Weaver. She's learned that a KGB Special Operations Group has special interest in Projekt Endstation.
Automated Voice: Code in.

Automated Voice: Access granted. Commencing recording.

Maxis: I'm hearing that something has lit a fire under the KGB's metaphorical ass. Something they found out about Endstation.

Maxis: There are -- shall we say "extremists"? -- within their ranks that are pushing a new agenda. Their department thinks they might have uncovered something that could be a game changer for the Cold War.

Maxis: All I know for certain is that they've allocated a huge amount of resources to fund a ground operation in Poland...

Maxis: What worries me more is I have no idea who around me I can really trust. Some here may already be working with them. They may even be listening in...
The VHS Tape
Agent Maxis leaves another message for Officer Weaver. She's received a VHS tape from her KGB contact, which she's sending to him for review.
Automated Voice: Code in.

Automated Voice: Access granted. Commencing recording.

Maxis: So, this is the last you'll hear from me. For a while.

Maxis: I'm starting to feel that the walls are closing in, if you get my meaning.

Maxis: Two of my contacts have already been exposed. Well, I say exposed, but to be more specific one started singing as soon as he was detained. The other fell out of a window.

Maxis: Before the untimely "accident," he sent me a tape. I think it's what the new department is going after...Endstation.

Maxis: An associate at the BND -- maybe the last one I can trust -- will ensure its delivery to you.

Maxis: Right now I have no choice but to move, and burn everything in my wake. Forgive my breaches of protocol, Weaver, but these times are...unprecedented.
Documents
KGB Videotape Note
The note attached to the videotape Agent Maxis received from her recently deceased KGB contact.
To those who need to know. I believe my recent actions have compromised my position. I expect the reprisals from my KGB colleagues to be swift and severe. I take some comfort knowing that securing the enclosed package means my fate will not be for nothing. The West has to know about Endstation before it is too late. Nothing else matters.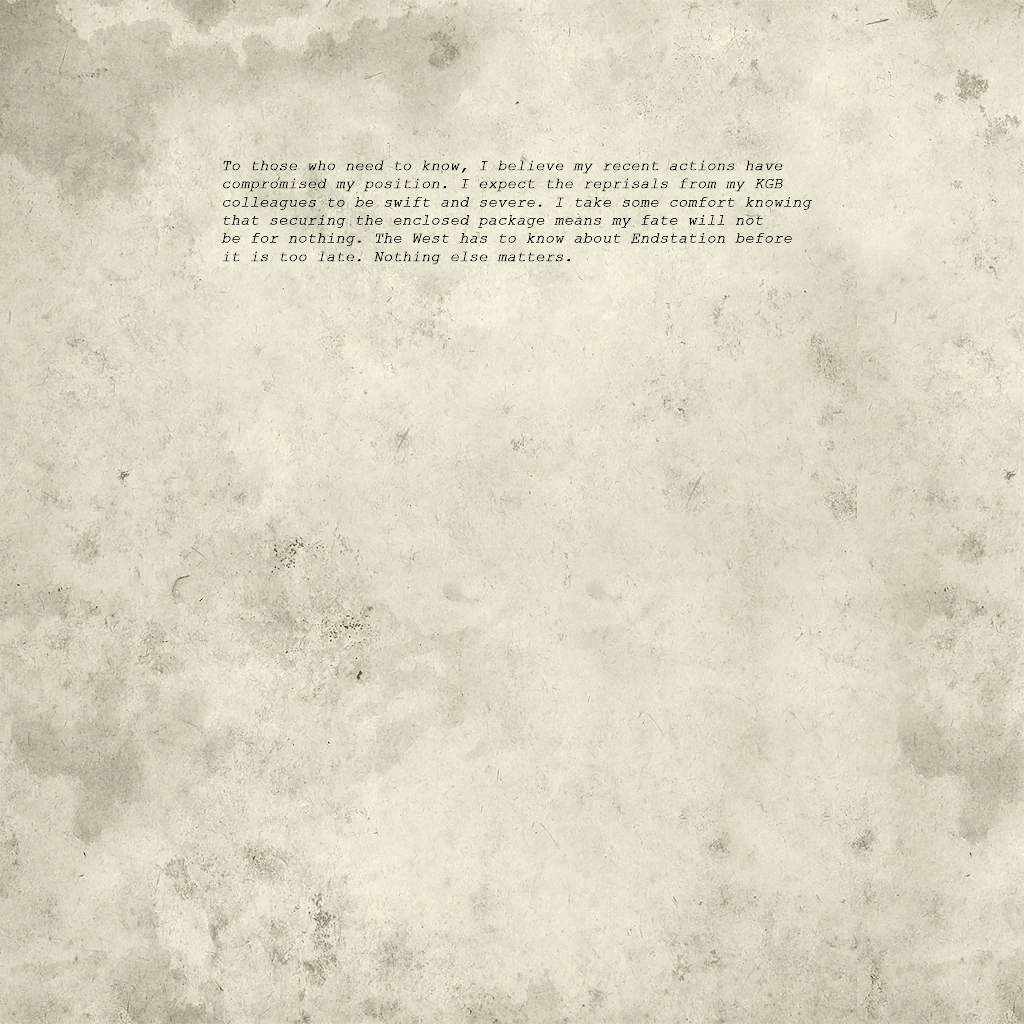 Dieter's Note
A note from Agent Maxis' BND colleague, Dieter.
Sam -

I'm worried and I don't know who else to turn to. The incoming case officer has instructed me - and everyone else in the department - to turn over the contact lists for all foreign nationals who acted as BND agents at any time over the last 5 years.

Agents in place I can understand - but why would they need to ID contacts for inactive operations? Why would they need to know where former agents were re-located after defection? It doesn't make sense. What are they trying to dredge up? I don't know. I'm sorry Sam - I know you've been the bagman recently. I just had to give you a heads up.

- Dieter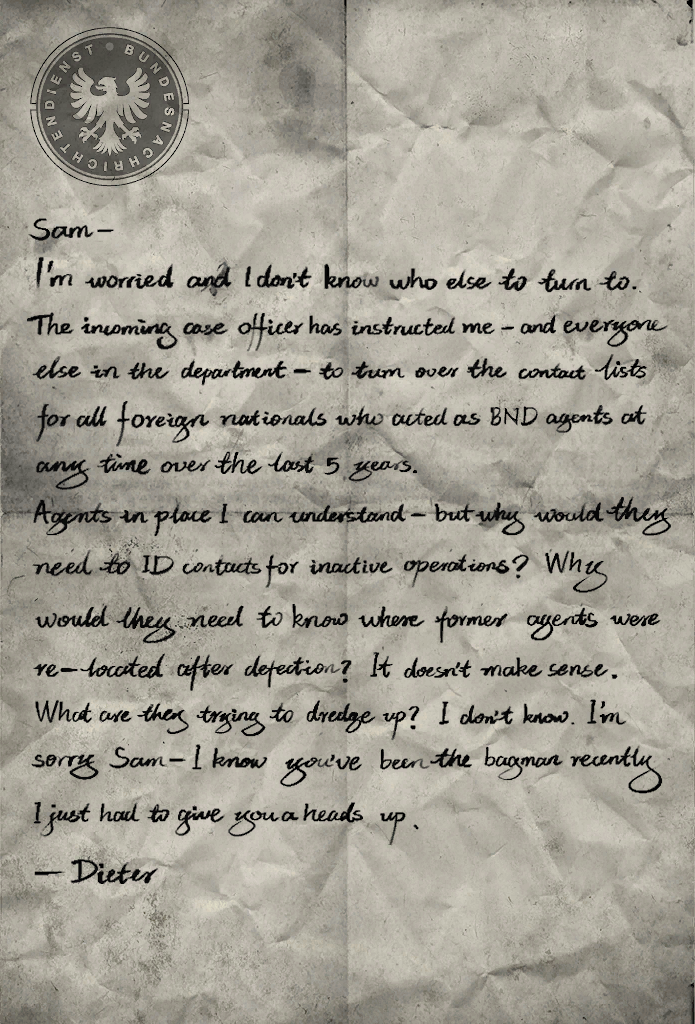 Message for Weaver
A letter from Agent Maxis to Officer Weaver. She's made contact with someone inside Omega Group and believes they can be turned.
W -

I know why you did what you did, but I thought I made it clear when we last spoke - I have to stay in the field. It doesn't matter how many people you send to bring me in, they won't succeed - I've gotten pretty damn good at looking over my shoulder these past few months.

Besides, I've already left Germany - I have a new contact within Omega Group itself. He's scared.

I think he can be turned.

- M

PS I am sorry for hurting your men - but broken noses WILL heal.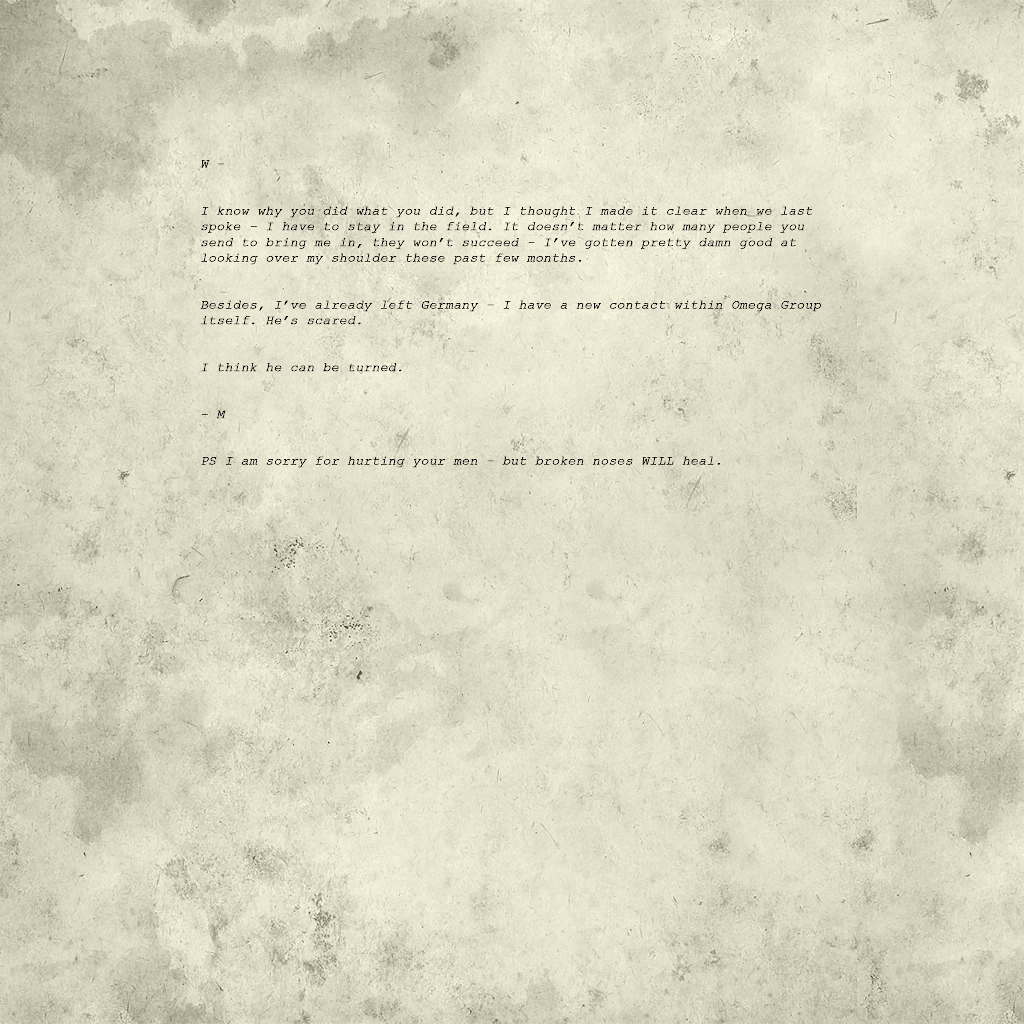 Radio Transmissions
Agent Maxis
Agent Maxis contacts the strike team and introduces herself.
Maxis: Hey. You know me, don't you? Sure you do. Hopefully. You're part of Weaver's strike team, right? My name's Maxis. I'm a friend.

Maxis: Sorry to start off with some bad news, but friends need to be honest with each other, so... I have reason to believe my communication channels with Weaver are compromised.

Maxis: I would say we do not know who is listening, but...even an idiot could probably work it out. Russians.

Maxis: So, I will continue to make these recordings in the hope that they may find their way to you without interference. P.S. Good luck.
Scorpions from Frogs
Believing the BND has been compromised by Omega Group, Agent Maxis has gone to ground as she continues her investigation.
Maxis: I'm going to assume you can hear me because the alternative is far too depressing to think about.

Maxis: I'm...in the field. Not an actual field -- that would be silly. It's a churchyard in Romania. Don't worry, there are no vampires. Even if there were, I have garlic. And weapons.

Maxis: To be perfectly clear with you, I have reason to believe the BND have been compromised. So I have gone what some would term "a little bit rogue." It pretty much means I am operating without authorization or oversight.

Maxis: But since I've spent the last seven years working alongside spies from both East and West, you can hardly blame me. Don't worry. I know my scorpions from my frogs.

Maxis: This experiment -- Endstation. If I'm right, it may really be the turning point the Russians believe it to be. We have to stop them.
Why You're Here
Agent Maxis reveals she gave Officer Weaver the intel on the Projekt Endstation Site.
Maxis: I was the one. I'm the reason you're here. I gave Weaver the Russian intel about the site in Poland...and told him how much the Russians were interested in it.

Maxis: Right now, I'm operating on the theory that they knew that there was something big here -- an unnatural power they could perhaps harness, and turn upon their enemies. Something no nation could be prepared for.

Maxis: Wait. Has Weaver even told you about the extent of the Outbreak Zones?
---
Stay tuned to @CODTracker on Twitter for full Call of Duty coverage, including the latest Black Ops Cold War news.
If you're new to Call of Duty Tracker, you should know that we also offer free services such as player statistics, leaderboards, and a cosmetics database. Consider checking us out and let us know on Twitter what you'd like to see next!
Comments