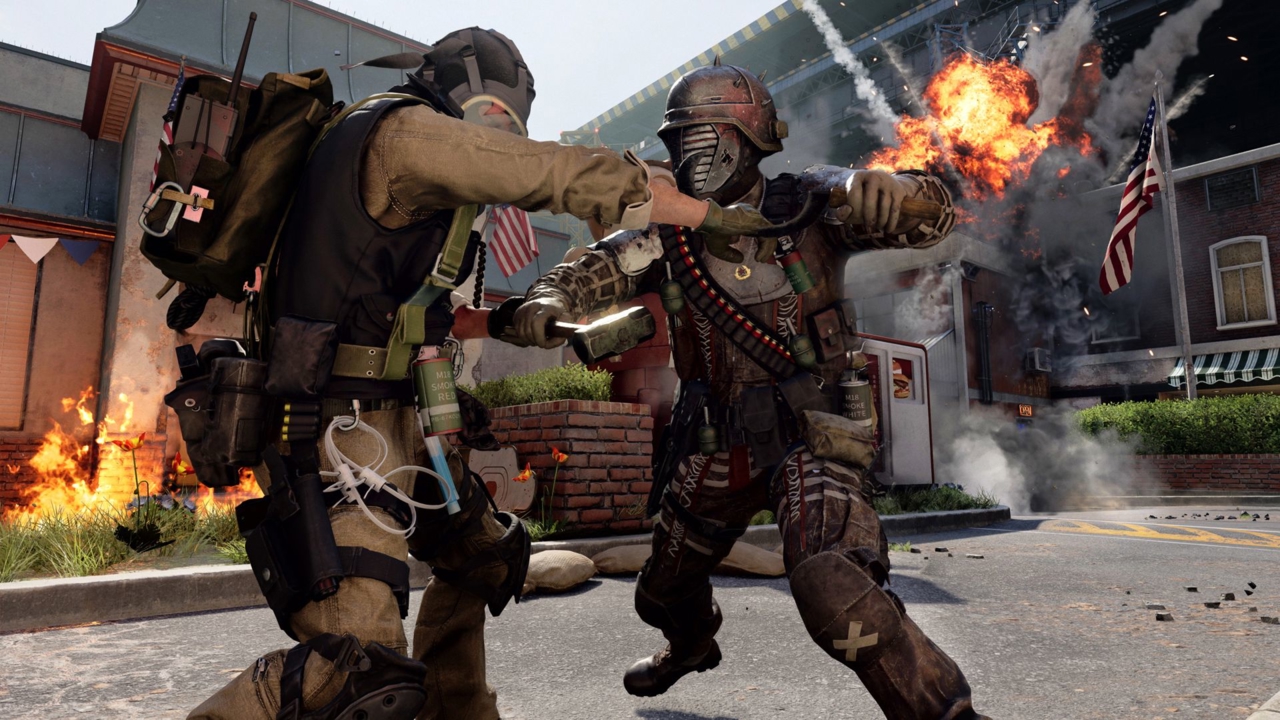 The November game update for Call of Duty: Black Ops Cold War is now available on PlayStation, Xbox, and PC (Battle.net)! Treyarch has released the complete Patch Notes for this update which detail all of the changes that this update brings to Black Ops Cold War.
Highlights of this update include:
Hammer and Sickle melee weapon
New Prestige Challenges
Onslaught Zombies available on Xbox and PC
Patch Notes
Global
Weapons
Hammer & Sickle
LAPA
New weapon unlock challenge added to Multiplayer and Zombies for the LAPA SMG.
Challenges
100 Percenter Rewards
Added "100 Percenter" Challenge rewards for Multiplayer, Zombies, and Campaign.
Players are now awarded an Animated Calling Card when they complete 100% of Challenges in each mode.
Dark Ops Challenges are not required to earn 100 Percenter Calling Cards.
Players who have already completed all Challenges in a given mode will be awarded the Calling Card retroactively.
Prestige Shop
New Weapon Blueprint
Added new "Vicarious" Tactical Rifle Weapon Blueprint to the Prestige Shop.
Legacy Calling Cards
Added new Legacy Calling Cards and Animated Calling Cards to the Prestige Shop.
Cinematic Archive
Added new Cinematic Archive to the Barracks where players can watch cinematics from previous seasons.
Uninstall Management
Players will now be prompted with an option to uninstall the Black Ops Cold War Campaign to free up disk space.
All Campaign save data will be retained and the mode can be reinstalled at any time.
Multiplayer
Modes
Throwback Moshpit
Added updated Throwback Moshpit playlist featuring Nuketown '84 and remastered maps from Black Ops and Black Ops II.
Gunfight Tournament
Added new rewards for the latest Gunfight Tournament.
Featured Playlists
Nuketown 24/7
Throwback Moshpit [NEW]
Infected
3v3 Gunfight Snipers Only [NEW]
Face Off 6v6
Party Games
Multi-Team
Zombies
Onslaught
All Platforms
Onslaught available on all platforms starting at 9PM PT Nov. 2nd, including 23 maps across Onslaught and Onslaught Containment:
Onslaught
Apocalypse
Cartel
Checkmate
Collateral
Crossroads
Deprogram
Drive-In
Echelon
Express
Garrison
Miami
Moscow
The Pines
Raid
Rush
Satellite
Standoff
Yamantau
Onslaught Containment
Game Show
ICBM
KBG
Nuketown '84
U-Bahn
Challenges
Addressed an issue where progress for the Onslaught Containment challenge "Contained" was being tracked when playing standard Onslaught.
Round-Based Maps
Rampage Inducer
Rampage Inducer effects now last until Round 55 (previously ended on Round 20).
Adjusted chance to spawn Super Sprinters based on community feedback. Super Sprinter spawn rate now begins at 20% (originally 50%) and increases 5% every 5 rounds while Rampage Inducer is active (25% chance at Rounds 5-9, 30% chance at Rounds 10-14, and so on).
Gameplay
Addressed an issue in "Firebase Z" where the Orda was unintentionally difficult to kill during Assault Waves from Round 30 onward in 3-player and 4-player games.
Addressed an issue where players could lose control of the ARC-XD when driving near the underground facility entrance doors on "Die Maschine."
Closed exploits that allowed players to reach unintended locations in "Die Maschine," "Firebase Z," and "Mauer Der Toten."
Closed various zombie pathing exploits in "Forsaken."
Stability
Addressed various stability issues in "Forsaken" related to arcade games, the Main Quest, and the Chrysalax Wonder Weapon.
Audio
Addressed an issue where certain audio was missing during Exfil in "Forsaken."
Cinematics
Addressed an issue where Kravchenko's knife was missing during the "Firebase Z" ending cutscene.
Outbreak
Players will now start with 1,000 Essence in Outbreak (previously 500).
Mystery Box
Weapons from Seasons Four and Five can now be acquired from the Mystery Box.
Trials
Weapons from Seasons Four and Five can now be acquired as possible rewards.
Chalices
Addressed an issue where Chalices were being incorrectly awarded in limited-time modes.
Offline
PhD Slider can now be purchased in offline Local play.
The Hand Cannon and ARC-XD can now be crafted in offline Local play.
Featured Playlists
Outbreak (Endless and 3 Region)
Forsaken
Mauer der Toten
Firebase Z
Die Maschine
Onslaught (All Platforms)
Onslaught Containment (All Platforms)
Dead Ops Arcade 3 (Standard and First-Person)
---
Stay tuned to @CODTracker on Twitter for full Call of Duty coverage, including the latest Black Ops Cold War news.
If you're new to Call of Duty Tracker, you should know that we also offer free services such as player statistics, leaderboards, and a cosmetics database. Consider checking us out and let us know on Twitter what you'd like to see next!
Comments