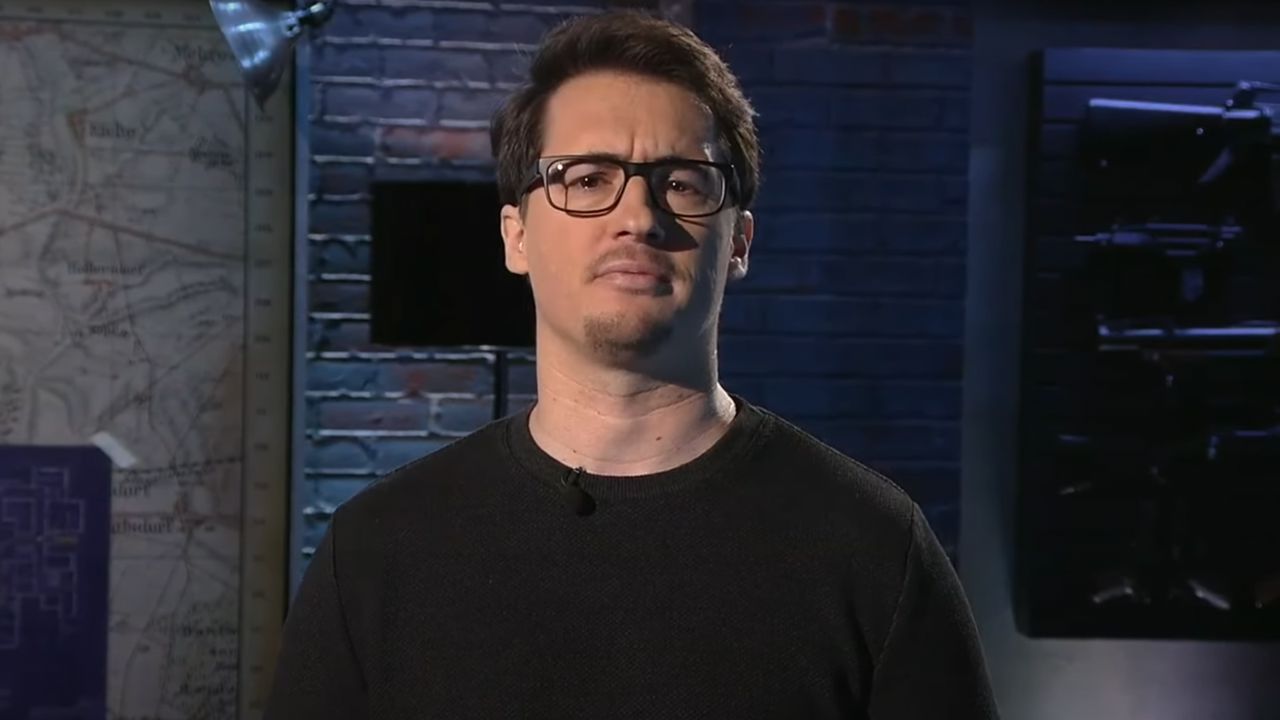 Update
As of Sunday, December 27th, 2020, Tony Flame has regained access to his Twitter account. In his first Tweet since the incident, the Developer apologizes for the foul language and remarks used and wishes the community a happy holiday.
---
Original
While most people around the world were enjoying their Christmas morning with friends and family, others had a more malicious idea of celebrating the holidays. In the early hours of Friday, December 25th, 2020, Treyarch's Lead Game Designer, Tony Flame, was the victim of a security breach which lead to his personal Twitter account being compromised.
While the attackers had access to Tony's Twitter account, they took the opportunity to advertise, impersonate, and spread hatred. At the time of writing, it does not appear that Tony has regained access to his account; however, we can confirm that the attacker no longer has the ability to send Tweets using it.
Skill-Based Matchmaking
Being the disastrously controversial topic that it is in the Call of Duty community, fans were quick to beg the attacker to falsify Tweets about skill-based matchmaking using Tony's account. Many jokingly suggested that the idea would result in a positive change in the game's matchmaking design.
Giving in to the pleas of their sudden new fandom, a Tweet directed toward Activision, the publisher responsible for Call of Duty. In this Tweet, it was suggested that Tony had access to his account and that the design decisions were ruining the experience which the Studio's Developers have worked on. Although inherently harmless, misinformation and impersonation are not a joking matter.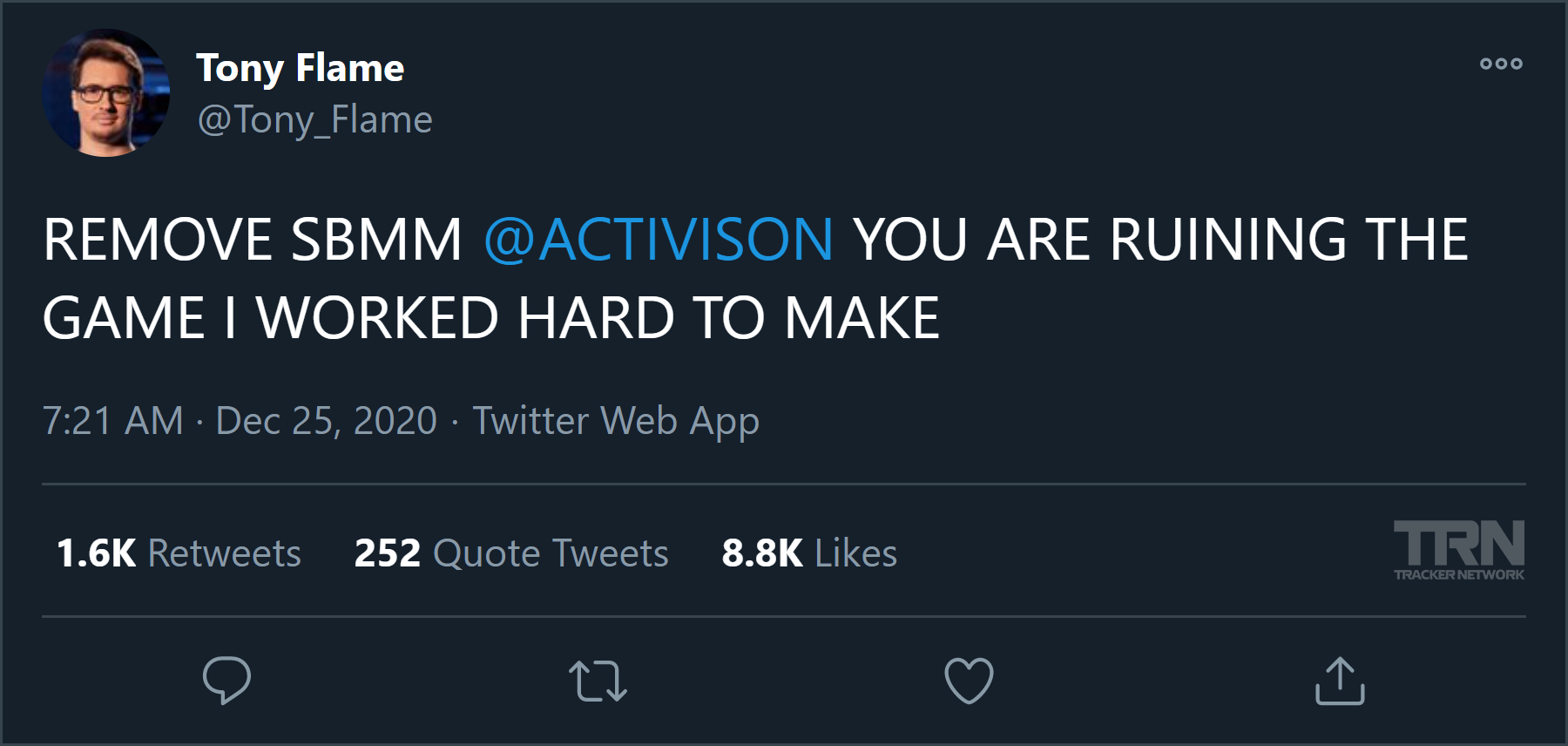 Leaked DMs
Unsurprisingly, one of the community's initial reactions to this attack were suggestions of sharing private conversations which the Developer had on the platform. Luckily, nothing of serious value was exposed during this process, however, we can see that Tony Flame seemingly does not cater to influencers or pro players in regards to sensitive topics such as skill-based matchmaking.
Censor, a Content Creator and professional Call of Duty player, is seen directly messaging the Developer, asking if the controversial matchmaking implementation would be adjusted in the favor of higher-skilled players. Being a sore point amongst the game's fans, many of whom feel that Treyarch has not addressed the issue, it's no surprise that Tony does not issue a response to Censor's messages.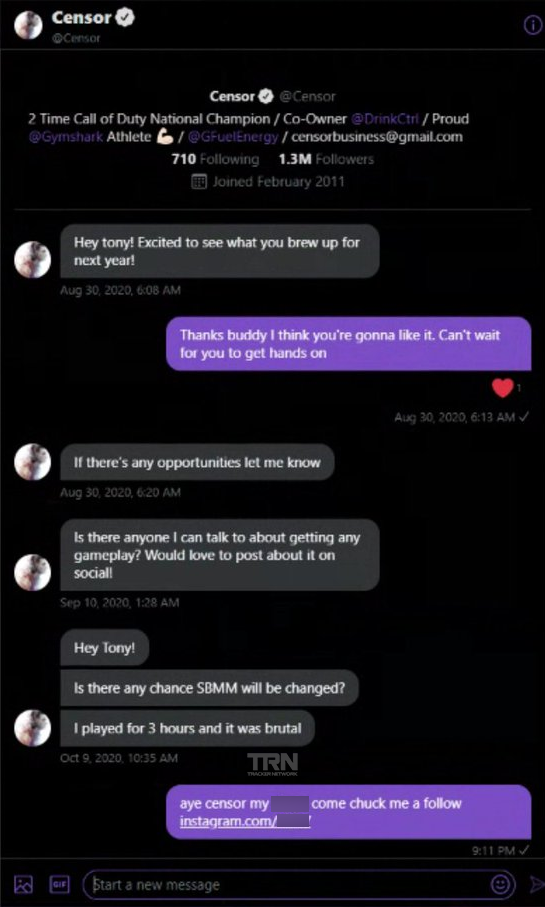 Advertisement
As per usual with hijacked social media accounts, the attackers immediately utilized their newfound reach to boost the exposure to their personal accounts. Alongside this shameless promotion were advertisements for an illegal service which claims to assist in gaining unauthorized access to Twitter accounts.
We cannot stress enough that these practices should not be encouraged or condoned, as such, we've deliberately removed identifying information from the following screenshots.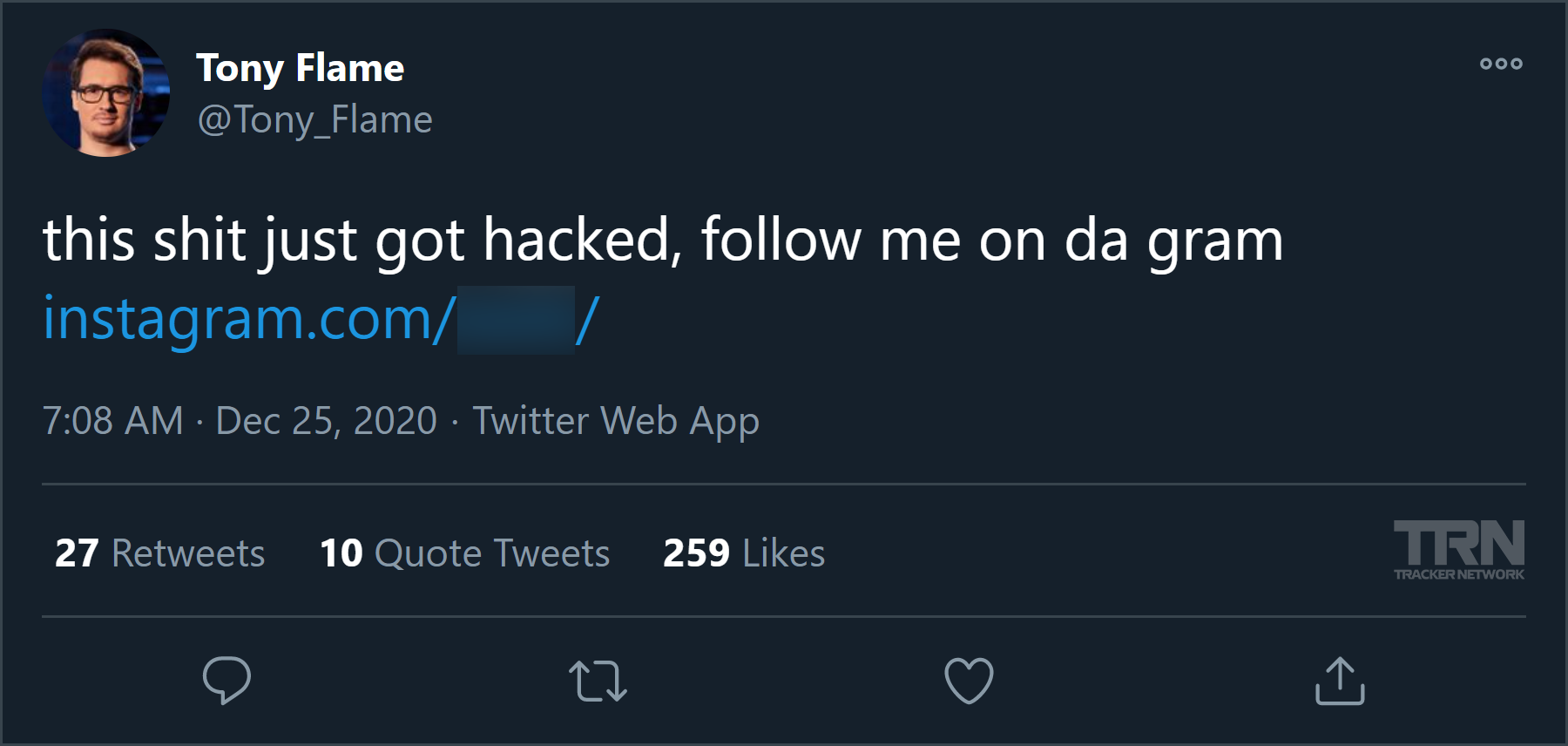 Hate
Unfortunately, the denounced activities do not stop at impersonation and advertisement. Seemingly in order to garner a reaction from Tony's Followers, the attackers continued to send several Tweets containing racial slurs, some of which were directed at various members of the Call of Duty community.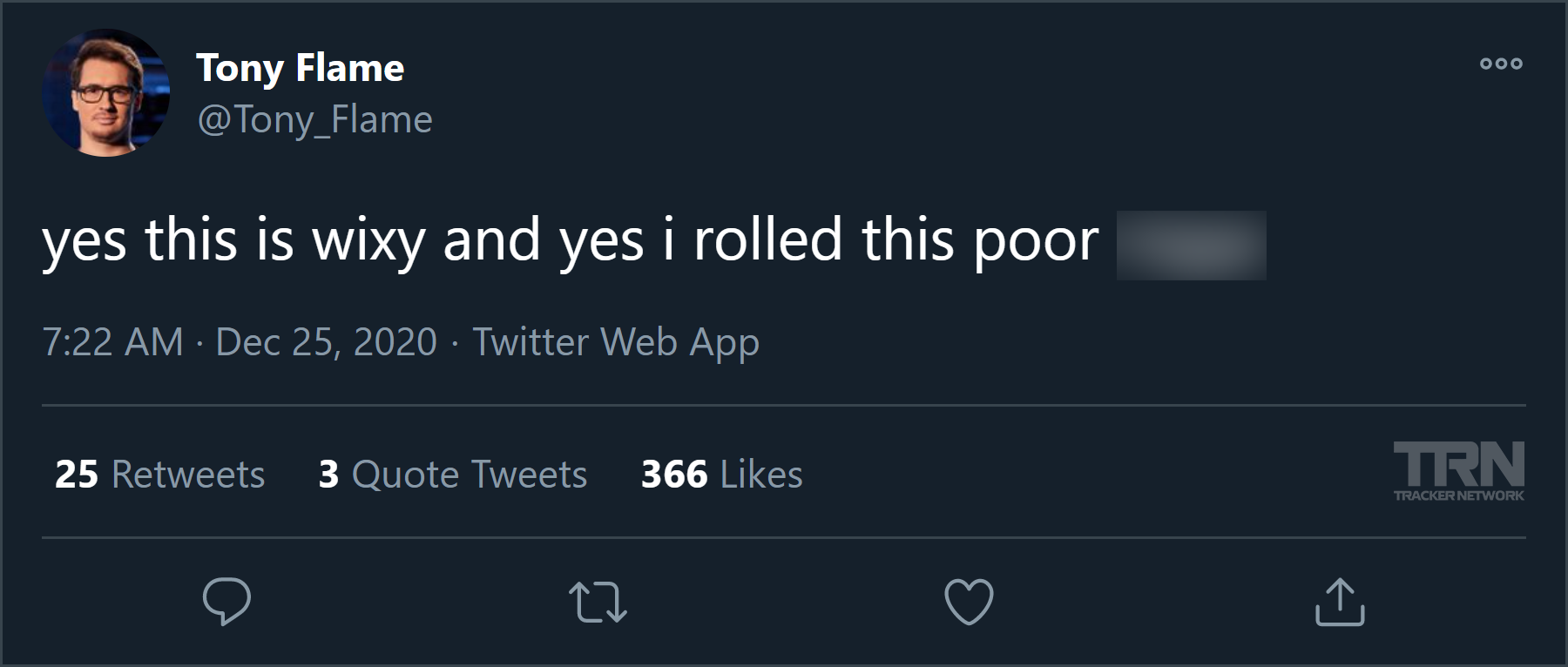 Account Locked
Ultimately this activity was flagged by Twitter's automated security measures and the Developer's account was locked for 12 hours. Until Tony regains access to his account and changes the login credentials, it seems that the attacker continues to have unauthorized access to the account; however, no Tweets can be sent.
In a Discord server which was advertised by the attacker, the following statements were made regarding the process of gaining unauthorized access to the account. The attacker also screenshared their activity on the Developer's account.
Bro I went crazy... I didn't even mean to jack that [account], I was scraping OCE Fortnite players just trying to get someone to like "shitpost" off of; I hit that [account] and I was like "Oh, alright. It's whatever." I Tweeted out and it was active, I was like "Who is this guy?" so I searched him up and I was like "Oh. I'm getting suspended tomorrow for sure."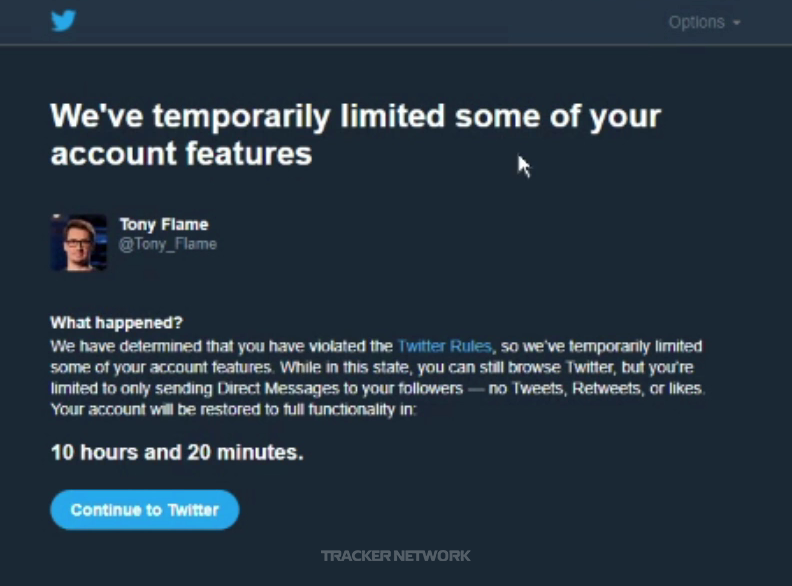 Neither Activision or Treyarch have addressed this event at the time of writing, we'll keep you updated.
---
Stay tuned to @CODTracker on Twitter for full Call of Duty coverage, including the latest Black Ops Cold War news.
If you're new to Call of Duty Tracker, you should know that we also offer free services such as player statistics, leaderboards, and a cosmetics database. Consider checking us out and let us know on Twitter what you'd like to see next!
Comments